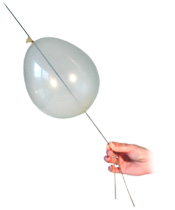 Description
The needle goes through the balloon without popping it!
A great illusion for teaching that all things are possible or for illustrating that just because a person believes something doesn't mean that it's true. Watch the video below to see this point in action.
This purchase includes the needle and balloons. See below for more accessories or to order extra balloons.
Cost: $15.00
Watch

ACCESSORIES
Lubricated Needle Wand/Case
This is the best way to store, carry and disguise your needle for the Needle through the Balloon illusion. The inside of the case is lubricated to help keep your wand in the best shape and ready for instant use.
Cost: $10.00
—————————
Extra Needle Through Balloons – Clear
Includes  20 clear balloons to restock your supply.
Cost: $5.50
Help others find these resources:
Follow Us: