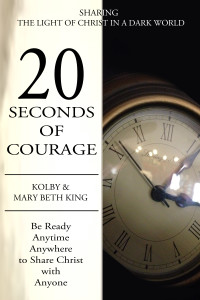 20 Seconds of Courage
God created you to change lives. You are significant. You are important. You can reach people that no one else can reach and no one in the world can fulfill the plan that God has for you. His plan for you is yours alone. It only takes one decision to follow Him and only a few seconds of courage to share Him. This book will challenge you and train you to be ready to share the Gospel anytime, anywhere with anyone. It is also a great book for learning how to lead kids to Christ.
Nonfiction, paperback, 130 pages. 
ON SALE! For only $10.00. Regular price: $14.95